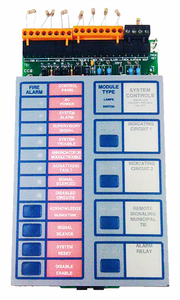 Notifier CPU-5000 Central Processing Unit for System 5000 (FACP) (REFURBISHED)
The center of the Notifier System 5000 is the Central Processor Unit (CPU-5000) module, which monitors and controls up to 15 other modules. The modules may provide conventional (zone) circuits, or addressable/intelligent points, or a mix of conventional and intelligent points.
The CPU communicates with up to 15 modules; any mix of IZM, ICM, CRM, TCM-2 or TCM-4, AIM, (AIM-200 is limited to 10) and VCM. Internal communications are accomplished over a high- speed serial data bus. Each module on the bus is automatically addressed, supervised and controlled by the CPU-5000.