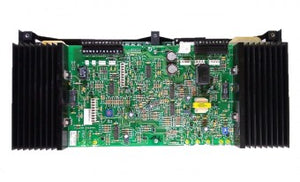 Notifier AA-100 Amplifier (NEW)
$1,00000

$1,000.00

Save $200
Tax included.
---
---
The Notifier AA-100 Amplifier is used with the Notifier fire alarm system's integrated voice evacuation systems. The AA Series is compatible with audio systems such as the AMG-1. The amplifier is compatible with DVC and legacy audio systems. It can be used for emergency communication, standard evacuation, and mass notification.
Specifications of Notifier AA-100 Amplifier
Dual outputs of up to 100 watts of 70.7 Vrms audio power (combined outputs not to exceed 100 watts).
Low-power standby mode for low battery drain.
Includes grouped or one-to-one backup amplifier switching bus.
Battery input and brownout switch-over control.
High-efficiency switched regulation.
Plug-in terminal strips and cable connectors for ease of installation.
10-position level adjust and indicator LEDs.
Separate mounting chassis not required (integral chassis for mounting in a CAB-3/CAB-4 Series or EQ Cabinet Series enclosure).
Includes a built-in automatic backup tone generator (slow whoop or high/low).
Power-limited per UL requirements and NFPA as dictated by NEC Article 760.
240 VAC option (AA-100E/AA-120E)
Notifier AA-100 Amplifier Benefits
The Notifier AA-100 Amplifier is defined by the following advantages:
It is flexible.
The amplifier has high-level audio distribution features, allowing it to amplify a message through the control output you wish for.
It has a seamless configuration that facilitates fast programming.
The amplifier is compatible with legacy audio systems and DVC.
It can be used in both retrofit and new applications.
If low-level input is lost, it generates automatic backup tones.
Installation of Notifier AA-100 Amplifier
The installation of the amplifier is quite easy.
It can be mounted on the cabinet backbox, directly.
You start by mounting the unit to the fire alarm system cabinet.
Then the primary (AC) and the secondary (24 VDC) are connected to the unit.
There is an external device like CHG-120 for battery charging.
Once you select the audio gain level and the backup tone, the amplifier is all set for use.
Buy Notifier AA-100 Amplifier at competitive prices and get the product delivered to your doorstep.