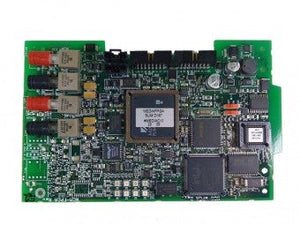 Notifier NCM-F Network Communications Module (NEW)
The NCM-F NOTIFIER Network Communications Module (NCM) provides NOTIFIER's NFS-640, NFS-3030, and NFS2-3030 Fire Alarm Control Panels, and NCA and NCA-2 Network Control Annunciators with a means to connect to NOTI•FIRE•NET™. Two types of NCM are available: NCM-W for connecting nodes with twisted pair wire, and NCM-F for connecting nodes with fiber-optic cable.
NCM-F Features:
Supports fiber-optic medium.
NFPA Style 4 (Class B) or Style 7 (Class A) operation.
Data is immune to all environmental noise.
Optical isolation prevents ground loops.
NOTI•FIRE•NET™ fiber-optic medium.
Fiber type: 62.5/125 micrometers (multimode); or 50/125 micrometers (multimode).
Maximum attenuation is 8 dB with 62.5/125 µm cable and 4.2 dB with 50/125 µm cable.
Wavelength (1): 820 nanometers (use standard 850 nm fiber).
Connectors: ST® style.
312.5 Kbaud transmission rate.
Data is regenerated at each node.
Two network ports to allow simultaneous connection to fire alarm control panel and to programming computer.
Enables software and database upload/download over NOTI•FIRE•NET™.
NCM-F Interconnections: When wiring consecutive nodes/repeaters, fiber cable must exit one board on Transmit (TX) and enter the next node/repeater on Receive (RX). The fiber-optic pair (RX, TX) from Port A of one node/repeater may be connected to either Port A or Port B of another node/repeater. An NCM-F may be connected to any of the following devices: MIB-F, MIB-WF, NAM-232F, another NCM-F, NCS-F network connection, RPT-F, RPT-WF.
Both NCM-W and NCM-F can be installed in any standard chassis such as the CHS-4L, CHS-M2, CHS-M3 or CHS-4N (see panel sheets). Additionally, the NCM-W can be door-mounted on the ADP-4B dress panel on a single-space blank plate (BMP-1) for mounting in an CAB-4 Series cabinet.