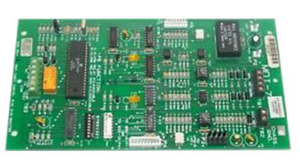 Siemens MOI-7 (NEW)
MOI-7 Siemens Annunciator Driver
Discontinued.
The Model MOI-7 from Siemens Industry, Inc. is an MXL/MXL-IQ network module that connects to a graphic annunciator using MOD-16s and MID-16s.
OPERATION
The MOI-7 can support up to 8 MOD-16s and 8 MID-16s, which provide for a total of 128 open collector outputs and 128 user-programmable inputs. These inputs and outputs are controlled by logic functions in the CSG-M.
The MOI-7 has two LEDs that indicate the status of the MXL/MXL-IQ network interface. The TRANSMIT LED blinks every time the MOI-7 communicates with the MXL/MXL-IQ. The TROUBLE LED goes on steady if the MOI-7 cannot communicate with the MXL/MXL-IQ.
For additional information on the MXL/MXLV System, refer to the MXL/MXLV Manual, P/N 315-092036.