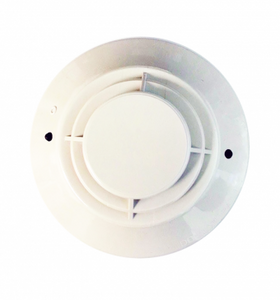 Notifier FSP-851A Intelligent Plug-in Photoelectric Smoke Detector
The Notifier FSP-851 Smoke Detector is a replacement photoelectric smoke detector head compatible for use with all Notifier Intelligent Fire Alarm Control Panels.

Notifier 851 Series smoke detectors can be used to replace the 751 Series plug-in detectors for legacy applications.

COMPATIBLE INTELLIGENT BASES:
— B210LP Standard U.S. flanged low-profile mounting base.
— B710LP Standard replacement flanged low-profile mounting base.
— B501 Standard European flangeless mounting base.
— B200S Intelligent, programmable sounder base
— B200SR Intelligent sounder base - Replaces B501BH series bases in retrofit applications.
— B224RB Plug-in System Sensor relay base.
— B224BI Plug-in System Sensor isolator detector base.
NOTE: All base types require an electrical backbox which is at least 1.5" (3.81 cm) deep.