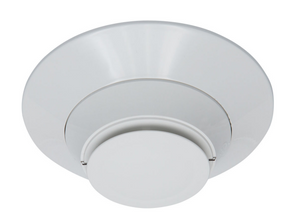 Notifier FSP-951A Photoelectric Smoke Detector (NEW)
The Notifier FSP-951A Series intelligent plug-in smoke detectors come designed for both performance and aesthetics and are direct replacements for the FSP-851 Series. Besides, a new modern, sleek, contemporary design and enhanced optical sensing chamber are engineered to sense smoke produced by a wide range of combustion sources in accordance with more stringent code standards.
In fact, Each Notifier FSP-951A Series detector uses one of the panel's addresses (total limit is panel dependent) on the NOTIFIER Signaling Line Circuit (SLC). Also, it responds to regular polls from the control panel and reports its type and status. If it receives a test command from the panel (or a local magnet test), it stimulates its electronics and reports an alarm. It blinks its LEDs when polled and turns the LEDs on when commanded by the panel. Additionally, the FSP-951 Series offers features and performance that represent the latest in smoke detector technology.
FSP-951 Series plug-in intelligent smoke detectors use a detachable base to simplify installation, service, and maintenance.
Features / Specifications
Two-wire SLC loop connection
Stable communication technique with noise immunity
Compatible with FlashScan® and CLIP protocol systems
Addressable by device
Sleek, low-profile, stylish design
Unique single-source design to respond quickly and dependably to a broad range of fires
Expanded color options
Operating temperature range: 32°F to 122°F (0°C to 50°C)
Relative humidity: 10% – 93% non-condensing