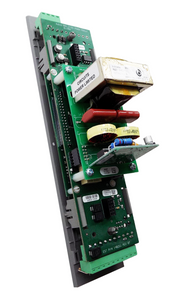 Edwards 3-ZA40A Amplifier
The EST3 audio amplifiers take full advantage of proven digital technology to deliver highly intelligible voice audio for evacuation and Mass Notification/Emergency Communication (MNEC) purposes. Digital messages generated by the Audio Source Unit (ASU) and live paging messages are multiplexed into eight separate channels transmitted over fiber optic cable or a single twisted pair of wires. Each zoned amplifier contains integrated demultiplexing circuitry that allows any one of the eight digital audio channels to place messages or signals on the amplifier's built-in speaker circuit.
Audio channel selection is network software controlled, and audio amplifiers mount in the same enclosures as other EST3 equipment. Power for the amplifiers comes from standard system power supplies through the local rail. Field wiring connects to removable terminal blocks on the amplifier module. Amplifiers support either 25 VRMS or 70 VRMS power limited speaker circuits. For visual signaling, each 20 or 40 watt amplifier comes standard with one 24 Vdc power limited Notification Appliance Circuit.