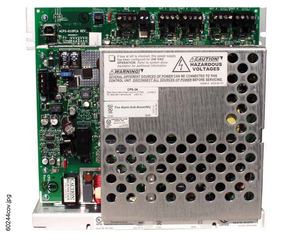 Notifier ACPS-610 (NEW)
The ACPS-610(E) is an auxiliary power supply with a battery charging option and a host of special features. Selectable charging options allow the ACPS-610(E) to provide 6 amps of shared power to four outputs while charging batteries from 12 to 200 AH, or 10 amps of shared power when the unit is configured for use with an external battery charger. Four individually addressable outputs can be independently configured for auxiliary power or Notification Appliance Circuits (NAC). NAC outputs support notification appliance synchronization for devices manufactured by System Sensor®, Wheelock, and Gentex. An option to disable battery charging allows the system designer to use the four built-in circuits to distribute 10 amps of power for general purposes, excluding NAC applications.
The ACPS-610(E) is compatible with NOTIFIER intelligent fire alarm control panels using CLIP and FlashScan® protocol.
• Primary (AC) power: – ACPS-610: 120 VAC, 50/60 Hz input, 5.0 A maximum. – ACPS-610E: 220/240 VAC, 50/60 Hz input, 2.5 A maximum.
• Output voltage: 24 VDC electrically regulated and power limited (under primary AC mains). Under secondary power, 20.4 to 26.4 VDC.
• Output circuits - TB3, TB4, TB5, TB6 on Main Board: 1.5 A maximum for any NAC output circuit. 2.5 A maximum for any Power output with battery charger disabled.
• Secondary power (battery) charging circuit - lead-acid battery charger which will charge 12 to 200 AH batteries. Maximum charger current - 5.0 A.
• Secondary power auxiliary outputs - TB2 on CPS-24 Board: – 24V @ 0.5A, power limited. – 5V @ 0.15A, power limited.
• Wiring: utilizes wire sizes 12 to 18 AWG (3.1 to 0.78 mm²).
• SLC specifications: Average SLC current is 1.287 mA. SLC data is transmitted between 24.0 VDC, 5 VDC, and 0 VDC at approximately 3.33 Kbaud.
• Battery fuse (F2): 15A, Fast-acting.
• Weight: 4.5 lb.