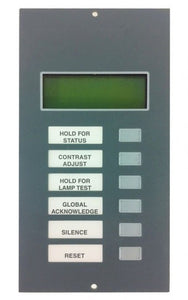 Notifier LCD-80TM Terminal Mode Annunciator (REFURBISHED)
In "Terminal" mode, Notifier's LCD-80TM Annunciator mimics the NFS-640, NCA, AM2020, AFP1010, AFC-600, AFP-400, AFP-300 and AFP-200 displays. Up to 32 LCD-80TMs can annunciate and provide remote reset, acknowledge, and silence of the control panel from remote locations. The DIA-1010 and DIA-2020 (Display Interface) include a Terminal mode driver port for LCD-80TMs in Terminal mode.
The Terminal mode port is standard on the NFS-640, AFC-600, AFP-400, AFP-300, and AFP-200 main PC/CPU boards.