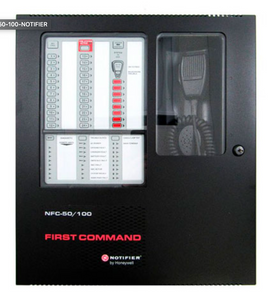 Notifier NFC-50/100 (NEW)
Notifier's First Command NFC-50/100 and NFC-50/100E are multipurpose emergency voice evacuation panels for fire applications, mass notification applications, or both. The First Command delivers 50 or 100 watts of audio power for distribution to up to eight speaker circuits (i.e. zones).

UL Listed to UL 2572 Communication (Control Units Mass Notification Systems) and UL 864 (emergency voice evacuation for fire)
Modular design for system flexibility and easy expansion
Removable terminal blocks
50 watts of 25V audio power (expandable to 100 watts) RMS
2 amp Notification Appliance Circuit (NAC) output, sync generator, or follower for System Sensor, Wheelock or Gentex protocols
Optional 70Vtransformer available for the primary amplifier. (Note that speaker wiring continues to be supervised in standby, alarm and when background music is playing with this optional transformer installed)
Eight Command Input Circuits to activate messages 1 to 8:
– CMD1 and CMD2 are field selectable to be activated from 12 or 24 VDC Notification Appliance Circuits (reverse polarity) or contact closures
– CMD3-CMD8 are activated by contact closures
Speaker Circuits
– Single Style Y (Class B) or Style Z (Class A) speaker Circuit
– Two Style Y (Class B) or Style Z (Class A) speaker circuits (with optional NFC-BDA-25/70V Audio Amplifier installed)
– Eight Style Y (Class B) or Style Z (Class A) speaker circuits (with optional NFC-BDA-25/70V and NFC-CE6 installed)
Integral supervised microphone
Microphone time-out feature which reverts back to prerecorded message if emergency page exceeds the programmed time
14 recorded messages
Field-selectable message and custom message recording capability using the local microphone, a USB port, or an external audio input
External Audio Input can be used for background music
Up to 60 second message duration for all messages
Integral tone generators field selectable for multiple tone types
Powered by integral AC power supply or batteries during AC fail
Programmable delay of immediate, 2 hours or 6 hours reporting of AC Loss
The NFC-50/100 Notifier comes standard with a single speaker circuit and a built-in 50 watt, 25V amplifier. A secondary 50 watt amplifier (NFC-BDA-25/70V) can be added for single speaker circuit backup or to increase system capacity to two speaker circuits and an additional 50 watts of audio power. An optional NFC-CE6 module added to the NFC-50/100(E) will upgrade the system to a maximum of eight speaker circuit outputs. All speaker output circuits can be wired in either Style Y (Class B) or Style Z (Class A) configuration.