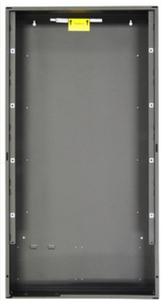 Notifier SBB-D4 (NEW)
SBB-D4: Backbox assembly, four tiers, BLACK, 40 lbs
The key-locked door is provided with a pin-type hinge, two keys and the necessary hardware to mount the door to the backbox.
The backbox has been engineered to provide ease-of- entry for the installer. Knockouts are positioned at numerous points to aid the installer in bringing a conduit into the enclosure with a minimum of hardship.
Right- or left-hand hinges, selectable in the field. Door opens 180°.
Cabinets are arranged in four standard sizes, A (one tier) through D (four tiers), plus a mini cabinet (AA, one tier without a battery compartment). See Ordering Information.
A trim ring option is available for semi-flush mounting.
Chassis bridge available for assembling multiple CHS-4 chassis external to the backbox.
Certified for seismic applications when used with the appropriate seismic mounting kit.