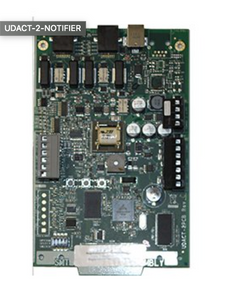 Notifier UDACT-2 (NEW)
UDACT-2 Notifier Universal Digital Alarm Communicator Transmitter-2.
The Universal Digital Alarm Communicator Transmitter UDACT-2 is designed for use on Notifier Fire Alarm Control Panels and on the NCA-2 Network Control Annunciator. When used in conjunction with the NCA-2 network control annunciator, the UDACT-2 can report the status of all control panels on NOTI•FIRE•NET™. The UDACT-2 transmits system status to UL listed Central Station Receivers via the public switched telephone network.
UDACT-2 NOTIFIER Features:
Programmable with VeriFire Tools version 6.60 or higher, allowing the UDACT-2 programming to be uploaded/downloaded and saved.
Maximum of 14 point trouble messages transmitted per hour.
Dual phone lines with line voltage detect.
Compact in size: 6.75″ x 4.25″ (17.145 x 10.795 cm).
USB port for upload/download programming.
Manual Test Report function.
Manual Transmission Clear function.
Mounts in a separate enclosure (ABS-8RB or UBS-1B/R).
UDACT-2 NOTIFIER Communicates vital system status including:
– Independent zone fire alarm.
– Independent zone non-fire alarm.
– Independent zone trouble.
– Independent zone supervisory.
– AC (mains) Power Loss (programmable).
– Low Battery and Earth Fault.
– System Off-Normal.
– 12 or 24-hour test signal.
– Abnormal Test Signal per new UL requirements.
– EIA-485 Communication Bus Failure.
Annunciation of UDACT-2 NOTIFIER Troubles including loss of phone lines, communication failure with either Central Station, total communications failure.
Individual LEDs for Power, EIA-485 Loss, Manual Test, Kissoff, Comm Fail, Primary Line Seize, Secondary Line Seize, and Modem Communications.
Open Collector relay driver for Total Communications Failure or UDACT-2 NOTIFIER trouble.
Real-time clock.
Extensive transient protection.
EIA-485 interface to host panel.