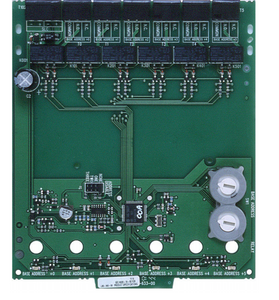 Notifier XP6-R(A) Six Relay Control Module (REFURBISHED)
NOTIFIER's XP6-R six-relay control module provides an intelligent fire alarm system with six Form-C relays.
The first module is addressed from 01 to 154 while the remaining modules are automatically assigned to the next five higher addresses. Provisions are included for disabling a maximum of three unused modules. A single isolated set of dry relay contacts is provided for each module address, which is capable of being wired for either a normally-open or normally-closed operation. The module allows the control panel to switch these contacts on command. No supervision is provided for the controlled circuit.
Each XP6-R module has panel-controlled green LED indicators. The panel can cause the LEDs to blink, latch on, or latch off.