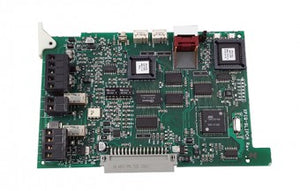 Notifier XPIQ-SLI Signalling Line Interface (REFURBISHED)
This is the motherboard for the Notifier XPIQ Quad Intelligent Audio Transponder is for distributed multichannel voice evacuation systems, playing up to four simultaneous messages. It is an integrated audio amplification and distribution subsystem controlled by an FACP (Fire Alarm Control Panel) via the SLC (Signaling Line Circuit). The XPIQ can direct up to four low-level audio signals from the risers to four audio amplifiers. The amplified audio signals are then directed to up to four integrated, continuously supervised speaker circuits. The XPIQ is compatible with all Onyx panels, with the exception of the NFS-320.
NOTE: The XPIQ can also be used with some Legacy panels. Please refer to the XPIQ manual for more information.