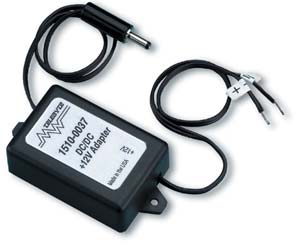 Telebyte Model 1510-0037 - DC Power Adapter
The Model 1510-0037 DC Power Adapter provides regulated +12 Volts at up to .5 Amp. The output is stable over an input range of +18 Volts to +36 Volts. The regulated DC output is available on a 10-inch line cord terminated in a 1.3 mm power plug that is compatible with all Telebyte LCD based short haul modems and interface converters and their derivative products.
The input power is applied to a 10-inch line cord that is terminated in soldered wire ends. The DC Adapter is protected against inadvertent application of improper polarity.